Last updated on October 23rd, 2022
Welcome 🙂
This web site is full of useful stuff on just about every subject that interests me, Ed Paul of Virginia Beach (which is a lot).
Before you start looking around, I would like to tell you how I came to accept the truth that GOD loves me and has a plan for my life. I grew up as a religious person; I went to church every week. Daily, I prayed and read the Holy Bible. I thought I was fine with GOD and everyone else was left to their own journey. My focus was on survival and relaxation. I did not care about others and focused on myself. A cloud of depression hung over me keeping me from the truth. In early 2000, my brother asked me to be the godfather for my first nephew, which I gladly accepted. This got me thinking about what I wanted to teach him.
I knew the church I was attending did not clearly teach the whole Biblical truth of the path to eternal life. That day I decided the day of his Christening would be the last day in that church for me. I then started searching for a more scriptural based church for me to grow in. Two weeks later, I found my home church in the town where I grew up. I spent the next 2 years growing in discipleship. On August 11th, 2002 I was baptized at my home church. I publicly acknowledged four things.
1. God loves me and has a plan for my life.
"For God so loved the world that He gave His only begotten Son, that whoever believes in Him should not perish, but have eternal life." (John 3:16)
Jesus said, "I came that they might have life, and might have it abundantly" (that it might be full and meaningful) (John 10:10)
2. Man is SINFUL and SEPARATED from God.
Therefore, we cannot know and experience God's love and plan for our life.
"For all have sinned and fall short of the glory of God." (Romans 3:23)
"For the [result] of sin is death" — spiritual separation from God. (Romans 6:23)
3. Jesus Christ is God's ONLY provision for Man's sin.
Through Him you can know and experience God's love and plan for your life.
"But God demonstrates His own love toward us, in that while we were yet sinners, Christ died for us" (Romans 5:8)
"Christ died for our sins… He was buried… He was raised on the third day, according to the Scriptures… He appeared to Peter, then to the twelve. After that He appeared to more than five hundred…" (I Corinthians 15:3-6)
"Jesus said to him, 'I am the way, and the truth, and the life; no one comes to the Father, but through Me.'" (John 14:6)
4. We must individually RECEIVE Jesus Christ as Savior and Lord; then we can know and experience God's love and plan for our lives.
"But as many as received Him, to them He gave the right to become children of God, even to those who believe in His name" (John 1:12)
"For by grace you have been saved through faith; and that not of yourselves, it is the gift of God; not as a result of works, that no one should boast." (Ephesians 2:8-9)
"I tell you the truth, no one can enter the kingdom of God unless he is born of water and the Spirit. Do not be surprised when I say you must be born again. Flesh gives birth to flesh, but the Spirit gives birth to spirit." (see John 3:1-8)
Jesus said, "Behold, I stand at the door and knock; if anyone hears My voice and opens the door, I will come in to him." (Revelation 3:20)
If you would like to know more about how you can receive the gift of eternal abundant life please visit Four Spiritual Laws from Campus Crusade for Christ.
After I committed my life to Jesus Christ I was freed from mild depression which lasted most of my life. I have experienced a steady growth of joy in my life. Since then, I have developed friendships with people who want me to grow. God has helped me be more outgoing and sociable. He has cleansed sinful habits from my life. His love for me has given me love for others. Finally, I have learned that God has created me to fulfill His purpose in my generation. To discover how God has shaped you for a purpose, please visit Purpose Driven Life.
I pray that God will bless all who read these words with the gift of eternal abundant life.
Keep on asking and it will be given to you, keep on seeking and you will find, keep on knocking and the door will be opened. (Matthew 7:7-8)
Learn more about Christianity.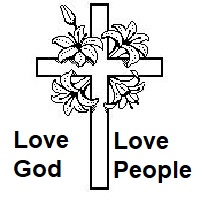 ---
Next, you can find out more about the author of this site, Ed Paul of Virginia Beach.
or check out some other pages: