Last updated on August 2nd, 2020
Media matters. Much of the national media in America is liberal in their viewpoints and presentations. The media affects our emotions and our attitudes. The liberal media has distorted the meaning of words to shift public opinion and perspective on a variety of issues. Below are some good books, authors, and publishers that are more truthful and honorable and wholesome for your consideration.
Good Books
"100 Ways to Love Your Husband: The Simple, Powerful Path To a Loving Marriage" by Matt and Lisa Jacobson founder of Club 31 for Women.
"100 Ways to Love Your Wife: The Simple, Powerful Path To a Loving Marriage" by Matt Jacobson founder of Faithful Man.
"Above The Law: The Inside Story of How the Justice Department Tried to Subvert President Trump" By Matthew Whitaker Former Acting Attorney General
"America's Expiration Date: The Fall of Empires and Superpowers . . . and the Future of the United States" by Cal Thomas
"American Spirit: Profiles in Resilience, Courage, and Faith" by Taya Kyle
Angels: Who They Are, What They Do, and Why It Matters by Dr. Jack Graham
"Be the Hands and Feet: Living Out God's Love for All His Children" by Nick Vujicic. Also check out his ministry, Life Without Limbs.
"Called out: Why I traded Two Dream Jobs for a life of True Calling" by Paula Faris
"Change Your Questions, Change Your Life" by Wendy Watson Nelson. (Christian mindfulness)
"Change Your Questions, Change Your Life: 12 Powerful Tools for Leadership, Coaching, and Life" by Marilee Adams
Character Carved in Stone: The 12 Core Virtues of West Point That Build Leaders and Produce Success by Pat Williams.
Concerned about foster care or looking for help dealing with past hurts, check out "CinderGirl: My Journey Out of the Ashes to a Life of Hope" by Christina Meredith
"Courageous – 10 Strategies for Thriving in a Hostile World" by Dr. Robert Jeffress of Pathway to Victory
"Dare to Fly – Simple Lessons in Never Giving Up" by Senator Martha McSally COL. USAF (Ret.) from Arizona
"Don't Burn This Book: Thinking for Yourself in an Age of Unreason" by Dave Rubin
Also check out the book "Erasing America: Losing Our Future by Destroying Our Past Hardcover" – by James S. Robbins
"Free Cyntoia: My Search for Redemption in the American Prison System" by Cyntoia Brown-Long
Finding the Bright Side: The Art of Chasing What Matters Hardcover – May 14, 2019 by Shannon Bream
"The First Hour for Men" – A Simple Plan To Heal The Nation – Free Work Book, morning devotional by Mark W. Koch
"Forgiving my Father, forgiving myself: An Invitation to the Miracle of Forgiveness" by Ruth Graham
"Fortitude: American Resilience In the Era of Outrage" by Representative Dan Crenshaw
"The Friendship Challenge: A Six-Week Guide to True Reconciliation – One Friendship at a Time" by Senator Tim Scott and Congressman Trey Gowdy from South Carolina.
"The Gift of Forgiveness: Inspiring Stories from Those Who Have Overcome the Unforgivable" by Katherine Schwarzenegger Pratt
"Grace Canceled: How Outrage is Destroying Lives, Debate, and Endangering Democracy" by Dana Loesch
"A Grandmother's Prayer – Moments in a Music Life" By Chris Christian who worked with Amy Grant and Elvis sang one of his songs
"The Great Divide: Why liberals and conservatives will never, ever agree" by William D. Gairdener.
"Guilty by Reason of Insanity: Why the Democrats Must Not Win" by David Limbaugh
"I'm Your Emotional Support Animal: Navigating Our All Woke, No Joke Culture" by Adam Carolla a free-speech advocate, comedian, and pod-caster. Adam also appeared in the Guinness Book of World Records winning documentary "No Safe Spaces"
"Laughing Through the Ugly Cry… and Finding Unstoppable Joy" by Dawn Barton
Loud Krazy Love by Korn's Brian "Head" Welch – Documentary exploring the life of Brian "Head" Welch of the metal band KoRn and his journey to become a good father.
"The MAGA Doctrine: The Only Ideas That Will Win the Future" by Charlie Kirk of Turning Point USA.
"No Ordinary Dog: My Partner from the SEAL Teams to the Bin Laden Raid" by Will Chesney
"One Small Step: The Life-Changing Adventure of Following God's Nudges" by Matthew Barnett co-founder of the Dream Center
"Opportunity Knocks: How Hard Work, Community, and Business Can Improve Lives and End Poverty" by Senator Tim Scott.
"The Passion Code" by O.S. Hawkins – 100 days with Jesus – a devotional book.
"Profiles in Corruption: Abuse of Power by America's Progressive Elites" by Peter Schweizer.
"The Rational Bible: Genesis" commentary by Dennis Prager
"Recovered: How an Accident, Alcohol & Addition Led Me to God" by Roby Gallaty of Long Hollow Baptist Church.
"Reforesting Faith: What Trees Teach Us About the Nature of God and His Love for Us" by Matthew Sleeth
"Relentless: Unleashing a Life of Purpose, Grit, and Faith" by John Tesh.
"The Rifleman" by Oliver North – A gripping, fact-based story of how Daniel Morgan and his courageous riflemen played a crucial role in George Washington's victory in the American Revolution.
"The Self-Care Solution: A Year of Becoming Happier, Healthier, and Fitter – One Month At A Time" by Jennifer Ashton, M.D., M.S.
"Still in the Game: Finding the Faith to Tackle Life's Biggest Challenges" by football player Devon Still
"Take the Day Off" by Bestselling Author Robert Morris.
Rest your mind, body, and spirit and focus on God's principles for keeping the Sabbath with this helpful guide from bestselling author Robert Morris.
"Taken for Granted: How Conservatism Can Win Back the Americans that Liberalism Failed" by Gianno Caldwell.
"They're YOUR Kids!" by Sam Sorbo – An Inspirational Journey from Self-Doubter to Home School Advocate.
"Transformed: A Navy SEAL's Unlikely Journey from the Throne of Africa, to the Streets of the Bronx, to Defying All Odds" by Remi Adeleke
"True Faith: Embracing Adversity To Live in God's Light" by Kevin Sorbo and Sam Sorbo – Marriage, Movies, and Miracles. Oh, my!
"Trump and Churchill: Defenders of Western Civilization" by Nick Adams of the Foundation for Liberty and American Greatness.
"Unified: How Our Unlikely Friendship Gives Us Hope for a Divided Country" by Senator Tim Scott and Congressman Trey Gowdy from South Carolina.
"United States of Socialism: Who's Behind It. Why It's Evil. How to Stop It." by Dinesh D'Souza
"Unknown Valor: A Story of Family, Courage, and Sacrifice from Pearl Harbor to Iwo Jima" by Martha MacCallum
"Unmasked: Big Media's War Against Trump" by L. Brent Bozell
"Unveiling Islam: An Insider's Look at Muslim Life and Beliefs" by Ergun Mehmet Caner
"The Voice" – by Sandi Patty – this will help you uncover your God-given identity and a voice of your very own.
"Walk to Beautiful: The Power of Love and a Homeless Kid Who Found the Way" by Mr. Jimmy Wayne
"War On Fear: What Would You Do If You Were Not Afraid?" by John C. Morgan
"Who Do You See When You Look At Me?" by Angela Ray Rodgers with Grace Anna
"With All Due Respect: Defending America with Grit and Grace" by Nikki R. Haley – a first-hand perspective on major national and international matters, as well as a behind-the-scenes account of her tenure in the Trump administration.
"Why Faith Matters" by Rabbi David J. Wolpe of Sinai Temple
"You'll Get Through This" By Max Lucado
A number of the above books were mentioned on the TBN television show, Huckabee.
Good Media – Authors
You can find a number of books by Mike Huckabee.
Also check out some books by Eric Metaxas.
I have enjoyed the books by Pastor Rick Warren.
Allen B. West -"The Old School Patriot," a military veteran and political leader.
Finally, check out a story book designed for kids in kindergarten, but enjoyable by kids of all ages – The Adventure of Sir Good Knight by Tom Geden from NJ (my uncle)
Christian Publishers
Apologetics Resource Center
Good News Publishers / Crossway Books started in 1938.
The Tract League of West Michigan The League has over 300 tract titles in stock. started in 1922.
American Tract Society — Gospel Literature Since 1825!
Chick Publications Chick cartoon tracts make witnessing easy for anyone! The cartoons grab people's attention, then each tract presents a simple gospel message. Over 70 titles available. We also carry books, comics, and videos.
World Missionary Press- Scripture Booklets for the World World Missionary Press is an interdenominational faith ministry producing 48 page topical Scripture Booklets in over 300 languages for free worldwide distribution as God enable.
Faith Words, a division of Hachette Book Group – bestselling authors include Joel Osteen, Joyce Meyer, Joseph Prince, John C. Maxwell, and T.D. Jakes.
Online Christian periodicals
Christian Post – Christian Online Newspaper with articles posted daily.
Christianity Today Magazine – monthly magazine with additional articles posted Monday thru Friday.
One News Now – daily Christian news media service.
Way of the Master – discover an old way of sharing the good news.
Outreach Magazine the gathering place for the ideas, insights and stories of today's outreach-oriented church. Designed exclusively for pastors and church leadership.
Boundless Webzine | An Online Magazine for 20-Something Christian Singles
Charisma Magazine | Charismatic Christianity magazine
Next check out more Christian content.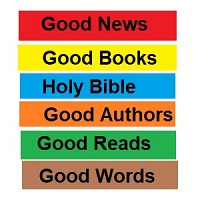 Next Page: Christianity Information
Previous Page: About Me
Favorite Quotes:
Live long and prosper.
The LORD is my shepherd, I shall not be in want. (Psalm 23:1)
For it is by grace you have been saved, through faith–and this not from yourselves, it is the gift of God not by works, so that no one can boast. (Ephesians 2:8-9)
For God so loved the world that He gave His only begotten Son so that all who believe in Him should not perish, but have everlasting life. (John 3:16)